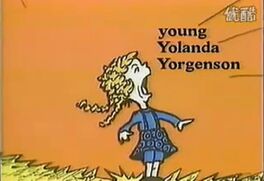 Yolanda Yorgenson
is a character in
Dr. Seuss's ABC
.
Appearance
Yolanda Yorgenson has long, light orange, curly hair with two braids. In the book, she wore a navy blue/indigo skirt held by indigo suspenders, indigo blouse & shorts, and gray shoes.
In the Living Books version, she has orange hair. She now wears a indigo strapless jumper held by indigo suspenders, blue blouse, shorts, and black shoes.
Personality
Yolanda likes to yell and yodel a lot while standing on her pet yak who's yawning. In the Living Books version, she's very excited yet tired as well as her yak is. She likes to ride the humps that the Yak pops up on his back and enjoys pulling his tail at times.
Gallery
Ad blocker interference detected!
Wikia is a free-to-use site that makes money from advertising. We have a modified experience for viewers using ad blockers

Wikia is not accessible if you've made further modifications. Remove the custom ad blocker rule(s) and the page will load as expected.