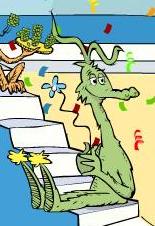 This is a creature who sits on the steps all the time as seen in There's a Wocket in my Pocket! He and the other yeps are holding flowers sitting down happily as they watch the boy who tells the story walks down the steps. They are good fun to have around his house.
Section heading
Write the first section of your page here.
Gallery
Ad blocker interference detected!
Wikia is a free-to-use site that makes money from advertising. We have a modified experience for viewers using ad blockers

Wikia is not accessible if you've made further modifications. Remove the custom ad blocker rule(s) and the page will load as expected.