Ad blocker interference detected!
Wikia is a free-to-use site that makes money from advertising. We have a modified experience for viewers using ad blockers

Wikia is not accessible if you've made further modifications. Remove the custom ad blocker rule(s) and the page will load as expected.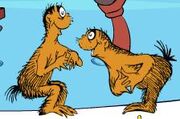 The
Wickershams
are monkeys in the Jungle of Nool who are
Horton
's tormentors, along with
Vlad Vladikoff
and the
Sour Kangaroo
.
Biography
Film
In the film, the leader is Yummo Wickersham.
Outside of Dr. Seuss series
One Whickersham from The Wubbulous World of Dr. Seuss has made strange appearances on a couple of Sesame Street media including the NasCount sketch on the "The Amazing Alphabet Race" episode in Season 38 and on the Healthy Habbits for Life video Happy Healthy Monsters.
Gallery