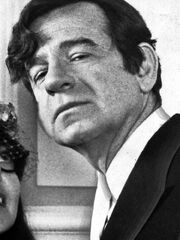 Walter Matthau (October 1, 1920 – July 1, 2000) was an American actor best known for his role as Oscar Madison in The Odd Couple and his frequent collaborations with Odd Couple star Jack Lemmon, as well as his role as Coach Buttermaker in the 1976 comedy The Bad News Bears. He won an Academy Award for his performance in the 1966 Billy Wilder film The Fortune Cookie.
Matthau died of a heart attack in Santa Monica on July 1, 2000. He was 79 years old. His remains are interred in the Westwood Village Memorial Park Cemetery in Los Angeles. Less than a year later, remains of Jack Lemmon (who died of colon and bladder cancer) were buried at the same cemetery. After Matthau's death, Lemmon as well as other friends and relatives had appeared on Larry King Live in an hour of tribute and remembrance; many of those same people appeared on the show one year later, reminiscing about Lemmon. Carol Marcus, also a native of New York, died of a brain aneurysm in 2003. Her remains are buried next to Matthau's. The remains of actor George C. Scott are also buried next to those of Walter Matthau, in an unmarked grave.
He was one of the voice actors from the Dr. Seuss Video Classic series. You heard him in the book video How the Grinch Stole Christmas! (Book) As the Narrator and the voice of Grinch and Cindy Lou Who.