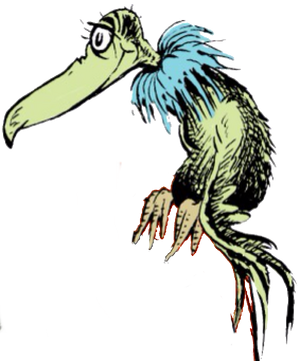 Vlad Vladikoff is a reclusive purple vulture mercenary who lives in a tree stump in a swamp surrounded by thorns. The Sour Kangaroo hired him to get rid of Horton's clover. At first, he agreed to do it in exchange for her son Rudy, but he then changed his mind and stated a brand new pair of objects never specified beforehand. After "thinking" it over, she used reverse psychology to get him to do it for free. He speaks in a thick Russian accent and is extremely theatrical in his wickedness to the point of embarrassing himself. He is also known as Whizzer McWoff, as he is referred to in the 1970 Horton Hears a Who! special as this. In The 2005 Version Of Seussical, he was once again as Whizzer McWolf. He is known as Vlad Vladikoff in Seussical JR.
He is voiced by the late Chuck Jones in Horton Hears a Who! (TV Special), and Will Arnett in Horton Hears a Who! (Film).
Gallery
Ad blocker interference detected!
Wikia is a free-to-use site that makes money from advertising. We have a modified experience for viewers using ad blockers

Wikia is not accessible if you've made further modifications. Remove the custom ad blocker rule(s) and the page will load as expected.