Ad blocker interference detected!
Wikia is a free-to-use site that makes money from advertising. We have a modified experience for viewers using ad blockers

Wikia is not accessible if you've made further modifications. Remove the custom ad blocker rule(s) and the page will load as expected.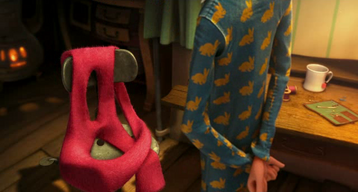 A Thneed is a highly versatile object knitted from the foliage of a Truffula Tree. According to the Once-ler, it is " A-fine-something-that-all-people need."
Appearance
The color of a Thneed depends on the color of the tree it is knitted from (however all Thneeds shown have a reddish-pink color). Its shape can also be changed to suit different purposes but its default form resembles a sweater.
Uses
Thneeds can take on a LARGE variety of forms for different purposes, such as:
Shirt
Sock
Large glove
Hat
Carpet
Pillow
Sheet
Curtains
Covers For Bicycle Seats
Hammock
Toothbrush Holder
Canary Nest
Sweatshirt
Thneedle Thoup That Cures Backache Pain And Chest (how this is possible is unknown)
Makes A Perfect Windshield Wiper
Groom Your Hair When It Gets Mussed
Eliminates Carborater Rust
Umbrella
Towel
Skirt
Pants
Blindfold
Shoes
Cape
Swimsuit
Sponge
Scarf
Tightrope
(Butterfly) Net
Thing for exercise
Wig
Purse/Bag
Suit
Boxing Glove(s)
Parachute
Reusable diaper
Runny nose wiper
Slingshot
Muzzle
Jump rope
Food (Tastes like bread, but without the crust)
Gallery