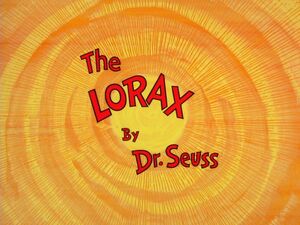 ''One Fish, Two Fish, Red Fish, Stub Fish. Oh how I wish That this article wasn't a Stub Fish. This article is a stub. Please help expand it so it has all info.The Lorax was a cartoon based on Dr. Seuss' The Lorax.
Plot
A young boy goes to meet a ruined industrialist called the Once-ler in a tireless wasteland and hear his tale of what happened to him. His tragic story is about how he began a thriving business with a useless but versatile fashion product derived from the trees of a forest. As his business booms, the forest and its inhabitants suffer as he wantonly clearcuts without regard to the warnings of a wise old creature called The Lorax about the dire consequences of his greed.
Credits
Introduced by: Eddie Albert
Voice Characterizations by: Bob Holt
Music by: Dean Elliott
Production Design: Maurice Noble
Directed by: Hawley Pratt
Produced by: Friz Freleng and Ted Geisel
Executive Producer: David H. DePatie
Animation: Warren Batchelder John Gibbs Manny Gould Bob Matz Bob Richardson Robert Taylor Dick Thompson Don Williams
Voices: Athena Lorde, Harlen Charraher
Backgrounds: Richard H. Thomas
Camera: John Burton, Jr. Larry Hogan Ray Lee
Film Editing: Lee Gunther Joe Siracusa Rick Steward
Executive In Charge of Production: Stan Paperny
Production Supervision: Harry Love
The Songs
Lyrics by: Dr. Seuss
Music by: Dean Elliott
Production Mixer: Steve Orr
Teleplay by: Dr. Seuss
Storyboard by: Irv Spector
Cast
Eddie Albert - Narrator
Bob Holt - The Lorax, Mr. Once-Ler
Athena Lorde - Ms. Funce-ler
Kenny Pires - Nick
Thurl Ravenscroft - Singer (uncredited)
Gallery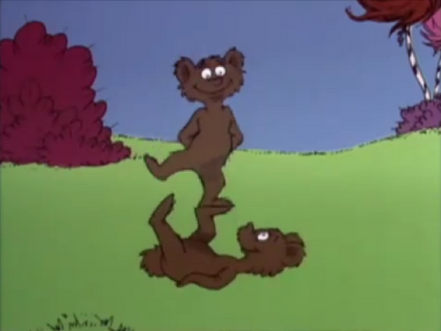 Video:
Ad blocker interference detected!
Wikia is a free-to-use site that makes money from advertising. We have a modified experience for viewers using ad blockers

Wikia is not accessible if you've made further modifications. Remove the custom ad blocker rule(s) and the page will load as expected.