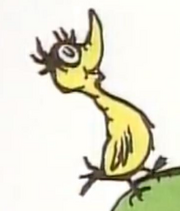 The Bird only appeared in the book Hop on Pop. It is first seen with Pup being up in the air. It is seen again with Will up hill still.
One Fish, Two Fish, Red Fish, Stub Fish. Oh how I wish That this article wasn't a Stub Fish. This article is a stub. Please help expand it so it has all info.
Ad blocker interference detected!
Wikia is a free-to-use site that makes money from advertising. We have a modified experience for viewers using ad blockers

Wikia is not accessible if you've made further modifications. Remove the custom ad blocker rule(s) and the page will load as expected.