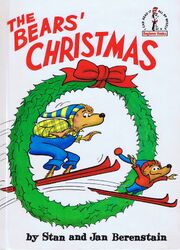 The Bears Christmas is a book by Stan and Jan Berenstain. It was first published in 1979. It was part of the Beginner Book Video series by Random House Home Video, which also featured The Bike Lesson and Inside, Outside, Upside Down.
Gallery
Video Book Gallery
No Video images of this book
Ad blocker interference detected!
Wikia is a free-to-use site that makes money from advertising. We have a modified experience for viewers using ad blockers

Wikia is not accessible if you've made further modifications. Remove the custom ad blocker rule(s) and the page will load as expected.