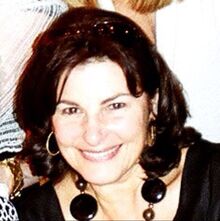 Sharon Lerner is an author, producer, lyricist and writer known for producing and voicing various characters in animated adaptation's of Dr. Seuss Beginner Book Video. She served asCTW VP and Creative Director for all Sesame Street toys, books and records for a decade.
In the late 80s and the early 90s, she has participated and became the Executive Producer for Random House and helped create the project of animating Dr Seuss books. She has produced Dr. Seuss Beginner Book Video/Video Classics, P.D. Eastman Beginner Book Video, and Stan and Jan Berenstain Beginner Book Videos.
Voices
The Tooth Book: Pam the Clam and Hilda Hen.
Maybe You Should Fly a Jet! Maybe You Should Be a Vet!: Floweriest Woman, Fortune Teller, and Lion Tamer Lady.
Go, Dog. Go!: Poodle dog lady wearing hats, Green Bird crossing the street, and Yellow Dog with a fan.
Ad blocker interference detected!
Wikia is a free-to-use site that makes money from advertising. We have a modified experience for viewers using ad blockers

Wikia is not accessible if you've made further modifications. Remove the custom ad blocker rule(s) and the page will load as expected.