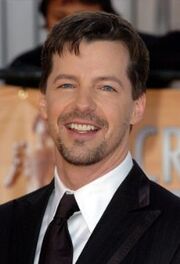 Sean Patrick Hayes (born June 26, 1970) is an American actor, voice artist, and comedian. He is widely known for his role as Jack McFarland in the NBC sitcom Will & Grace, for which he won an Emmy Award, four SAG Awards, one American Comedy Award, and six Golden Globes nominations.[1] He also portrayed comedian Jerry Lewis in the made-for-TV movie Martin and Lewis. He played Mr. Humberfloob, Joan's employer and voiced Norval the Fish on The Cat in the Hat (film).
Early life
Hayes was born in Chicago, Illinois, the son of Mary, the director of a non-profit food bank, and Ronald Hayes, a lithographer. He is of Irish descent and was raised as a Roman Catholic. After graduating from Glenbard West High School in Glen Ellyn, Illinois, Hayes attended Illinois State University. There he studied piano performance and conducting, with a special focus on the music of Mozart, but he left before graduating. He worked as a classical pianist, and served as a music director at the Pheasant Run Theater in St. Charles, Illinois. He also composed original music for a production of Antigone at the Steppenwolf Theatre Company in Chicago. Hayes moved to Los Angeles in 1995, where he found work as a stand-up comedian, stage actor and as an actor in television commercials, including the 1998 Doritos ad, featuring Ali Landry, which aired during the Super Bowl.
Personally life
Personal life
For many years Hayes declined to discuss his sexual orientation, saying he believed that audiences would therefore be more open-minded about his characters.[10] In an April 2010 interview with The Advocate magazine, he discussed his sexuality and appeared to imply that he is gay: "'Really? You're gonna shoot the gay guy down? I never have had a problem saying who I am,' he states....'I am who I am. I was never in, as they say. Never,' he insists." He indicated that he was in a relationship. Answering the charge that he had skirted the issue of his sexuality for too long, Hayes commented, "I feel like I've contributed monumentally to the success of the gay movement in America, and if anyone wants to argue that, I'm open to it."[11]
Ad blocker interference detected!
Wikia is a free-to-use site that makes money from advertising. We have a modified experience for viewers using ad blockers

Wikia is not accessible if you've made further modifications. Remove the custom ad blocker rule(s) and the page will load as expected.