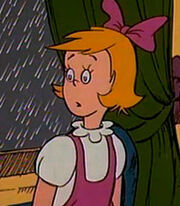 Sara "Sally" Walden
is a character in
The Cat in the Hat
series of books. She's shown with her brother,
Conrad
and she's the cute and very beautiful daughter of 
Joan Walden
. In
The Cat in the Hat's Learning Library
&
The Cat in the Hat Knows a Lot About That!
, she's accompanied by a new boy named
Nick
.
Voices and actors
In the film The Cat in the Hat (2003), she was portrayed by Dakota Fanning & voiced by Andrea Bowen in the Video Game of the movie. In The Cat in the Hat Knows a Lot About That! (2010) she's voiced by Alexa Torrington. In The Cat In The Hat she's voiced by Pamelyn Ferdin. In Living Books Presents: The Cat In the Hat, she's voiced by Brittany Lawrence.
Physical Description
1957 Book
In the 1957 book, Sally wears a purple sleeve-less knee-length dress over a frilly white short sleeved blouse, a white pearl necklace & a blue or red bow in her yellow blonde hair.
The Cat in the Hat Comes Back
In the 1958 book, Sally wears black pants, a white sweater & a red snow hat.
1971 TV Special
In the 1971 special, Sally has short gold hair. She wears a light gray shirt under a maroon jumper, bow, & black dress shoes.
2012 T.V. Series
In the T.V. series, she has short, blonde hair. She wears a short, white T-shirt under a dark pink jumper with 2 buttons, & dark pink shoes. She no longer wears her bow but now wears a dark pink headband instead. 
2012 Alternate Outfits
Her swimsuit consist of a pink swimsuit with a purple-&-white flower on the front, & a pink swim-dress. Her nightwear consist of a pink short-sleeved nightgown. Her winter clothes consist of a striped dark pink-&-light green hat with her headband underneath, a striped dark pink-&-light green scarf, a pink knee-length coat with 4 buttons, dark pink gloves, green pants, & brown winter boots. She also has a frilly pink ruffled short puffy-sleeved calf-length princess dress with pink low-heeled pumps.
2003 Film
In the film, she's a well-behaved 8-yr-old daughter, although she doesn't have the right to boss people about. She appears alongside her brother Conrad in The Cat in the Hat Comes Back.
2016 TV Film
In the upcoming TV Film, her appearance from the TV Series is the same, but her headband, jumper, & shoes are now maroon instead of dark pink.
Trivia
In the 2011 TV Series, Sally's six years old; one year younger than Nick.

In the Movie, she's eight years old; the same age as Conrad.

She likes to color.
In the movie, she started off as a "control freak".
In the movie, she also likes to make "to-do" lists.
She likes sandwiches, as evidenced in a game based on The Cat in the Hat Knows Alot About That! when she said "Birds eat bugs. I'd rather have a sandwich."
Gallery