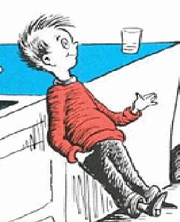 Peter T. Hooper is a young boy in the book "Scrambled Eggs Super!" who tells the story to his sister Liz Hooper on how he wanted to become a egg frying chef, but he wants to cook the eggs of some different and odd birds rather than scrambling the eggs made from a regular hen like the eggs normal people eat the most at breakfast time. So, goes on a journey around the world to find the eggs he wants and he will stop at nothing just to find it and after searching for the eggs he crack, mixes and scrambles and fries the eggs on a stove and he tells her how wonderful they tasted. 
"Scrambled Eggs Super-Dee-Dooper- Dee- Booper,Special de luxe a'-la-Peter T. Hooper!"
Section heading
Write the first section of your page here.
Section heading
Write the second section of your page here.
Ad blocker interference detected!
Wikia is a free-to-use site that makes money from advertising. We have a modified experience for viewers using ad blockers

Wikia is not accessible if you've made further modifications. Remove the custom ad blocker rule(s) and the page will load as expected.