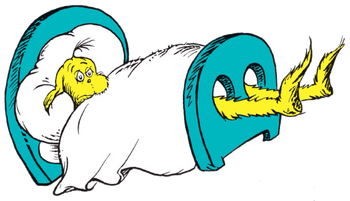 Ned is a strange dog-like animal from the book
One Fish Two Fish Red Fish Blue Fish
. He seems to have trouble trying to adjust in his bed. He can't stand his feet sticking out but when he pulls them in his head sticks out of bed the other way, then later a cow, a normal dog, a cat and a mouse joins him in bed yet he still doesn't like it even while talking on the phone with a woman who might be his mother.
Ad blocker interference detected!
Wikia is a free-to-use site that makes money from advertising. We have a modified experience for viewers using ad blockers

Wikia is not accessible if you've made further modifications. Remove the custom ad blocker rule(s) and the page will load as expected.