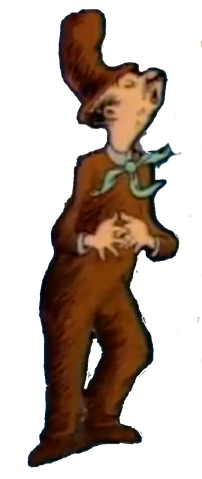 Mr. Brown
is a Character from Dr. Seuss's Book "
Mr. Brown Can Moo! Can You?
"
As he was walking outside one day he happens to see a Cow and he imitates the Cow's noise, he realizes he can do many other wonderful things by imitating sounds and noises.
He does not appear to be Mr. Brown from Hop on Pop.
Sounds Imitated
Cow
Bees
Cork popping off a soda bottle
Horse Klopping feet
Squeaky shoe
Rooster crowing
Owl hooing
Train going choo choo
Sound of Rain
Butterfly whisper
Big Tuba horn
Big Cat Drinking
Sound of a clock
The sound of a door being knocked
The sound of an egg being scrambled in a frying pan
Hippopotamus chewing gum
Fish kissing
The sound of thunder clapping and lightening
Snoring turtles on a log
Van going vroom vroom
Car sound
Birds tweeting in a tree
Snake hissing
Frog croaking
Guitar sound
Gallery
Appearance
Abilities