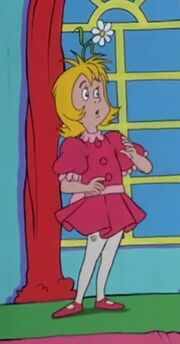 Mayzie McGrew
is the protagonist of
Daisy-Head Mayzie
. She is first seen with a bright bright yellow daisy growing
out of 
from her head. It causes alarm in her classroom, family, and town, until an agent makes her a celebrity.
The Cat in the Hat
then helps Mayzie to understand her problem and persuades her to go back home. She is voiced by
Fran Smith
.
Appearance
Mayzie McGrew is an adorable little girl with blonde hair with a daisy growing out of her head and a pink dress with puffy sleeves and lighter colored ribbons with matching shoes.
Trivia
In earlier Dr. Seuss lore, the name "Mayzie" is also given to a bird: a lazy acquaintance of Horton the Elephant who also has a role in the musical Seussical.
Gallery
Ad blocker interference detected!
Wikia is a free-to-use site that makes money from advertising. We have a modified experience for viewers using ad blockers

Wikia is not accessible if you've made further modifications. Remove the custom ad blocker rule(s) and the page will load as expected.