Ad blocker interference detected!
Wikia is a free-to-use site that makes money from advertising. We have a modified experience for viewers using ad blockers

Wikia is not accessible if you've made further modifications. Remove the custom ad blocker rule(s) and the page will load as expected.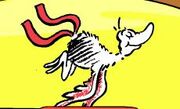 Mayzie
is a character from the
Dr. Seuss
books. She first appeared in
Horton Hatches the Egg
then later she was given a prominent role in
Seussical
and she appeared as the main antagonist in
Horton Hatches the Egg (1942 cartoon)
. She is known to be lazy, vain and vivacious and loves making people envious of her good looks and talent. In Wikipedia. She is beautiful and can be a bit self obsessed and mean but she knows what she can and can't handle in life. (Although she never admits it).
History
After about a week or two of sitting on her egg, Mayzie persuaded Horton to sit on her egg while she flew to Palm Beach. She lied and decided to never go back until Horton was done. When Horton was sold to the circus, it went to Palm Beach and Mayzie saw the show, bumping into Horton in the process. When the egg it's about to hatch, she demand the egg back without offering Horton a reward. The bird hatches and is a cross between Mayzie and Horton. Horton is rewarded for his hard work by keeping the "elephant bird" and Mayzie is punished for her laziness by getting nothing. As she pouts on the side, a man who came in the tent with the others spots her for an unknown reason as the others are being entertained by a new discovery of the elephant bird
Gallery