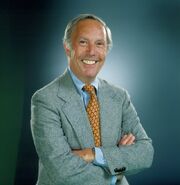 Mason Adams (February 26, 1919 – April 26, 2005) was an American character actor and voice-over artist. He voiced The Cat in the Hat on The Grinch Grinches the Cat in the Hat.
Early life
Adams was born Mason Abrams in Brooklyn, New York. He earned an MA degree from the University of Michigan in Theatre Arts and Speech and also attended the University of Wisconsin–Madison, studying theater arts. He made his stage debut in 1940, appearing in summer stock at Baltimore's Hilltop Theater.
Personal life
Adams married Margot Fineberg in 1958. The couple had a daughter, Betsy, and a son, Bill. He died on April 26, 2005, from natural causes, according to his daughter.
Section heading
Write the second section of your page here.
Ad blocker interference detected!
Wikia is a free-to-use site that makes money from advertising. We have a modified experience for viewers using ad blockers

Wikia is not accessible if you've made further modifications. Remove the custom ad blocker rule(s) and the page will load as expected.