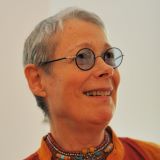 Marian Hailey Moss is a book writer, painter, and a poet and she is one of the voice actors from Random House's Dr. Seuss Beginner Book Video series.
You will hear her voice in:
Dr. Seuss's ABC as the main narrator until, Angelique Claire, and Colin Carman sing the alphabet as Icabod and Izzy and Jim Thurman as the Zizzer-Zazzer-Zuzz.
Oh Say Can You Say? as the part time narrator in a few page scenes of the video along with other voice actors narrating.
Oh the Thinks you can Think! as the main narrator.
The Cat in the Hat Comes Back as Little Cat B, and a few other little cats along with others talking at once.
Are You My Mother? as the Mother bird.
The Best Nest as Mrs. Bird who does not like the bird house they lived in until the end.
One Fish Two Fish Red Fish Blue Fish as one of strange creatures who look in her husband's ear discovering a bird flying out of it.
Hop on Pop as the main narrator along with a few other voice cast.
Inside, Outside, Upside Down - the Narrator of this book and Speaker giving introduction.
The Bears Christmas The Speaker giving introduction.
The Bike Lesson as the Speaker giving introduction.
Section heading
Write the first section of your page here.
Her Books
Milky Whey's Dream*
A Palace For Peepers*
A Dog Named Randall*
Teatime with Sophie*
Flower On My Chest*
Dreams Need Feet To Walk On*
Ad blocker interference detected!
Wikia is a free-to-use site that makes money from advertising. We have a modified experience for viewers using ad blockers

Wikia is not accessible if you've made further modifications. Remove the custom ad blocker rule(s) and the page will load as expected.