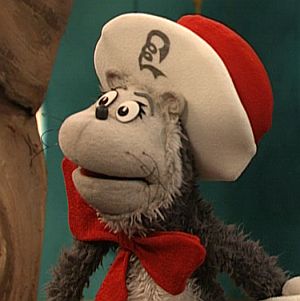 Little Cat Template:Fleep(Flee[p]) appeared in The Wubbulous World of Dr. Seuss episode "Talkin' with the Cat." Little Cat Fleep pays a visit to the Cat's Playhouse, but unlike the other Little Cats, he speaks his own language: Fleep. The planned but unreleased letter Fleep on his hat represents that language. Fleep and variations thereof constitute his entire vocabulary, initially posing communication problems, especially with Terrence McBird.
He is voiced by Kevin Clash.
Ad blocker interference detected!
Wikia is a free-to-use site that makes money from advertising. We have a modified experience for viewers using ad blockers

Wikia is not accessible if you've made further modifications. Remove the custom ad blocker rule(s) and the page will load as expected.