I Can Read with My Eyes Shut!
Talk

0
708pages on
this wiki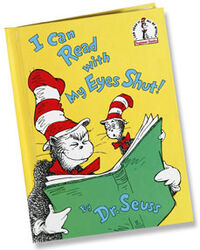 I Can Read with my Eyes Shut! is a children's book by Dr. Seuss featuring the titular character from The Cat in the Hat. In this story The Cat in the Hat teaches the Young Cat in the Hat about learning how much fun you can have with reading and and learning in how to do things with you eyes shut half of time but not all the time. 
This book was also used for a 30 minute Dr. Seuss's Beginner Book Video Series, along with two other books such as Dr. Seuss's ABC and Mr. Brown Can Moo! Can You?
Oceanhouse Media published this book to be used as an app on Iphones, Ipod touch, Ipad and android apps.
Goofs, Errors Corrections and Differences
This is a review of the Goofs, Errors, Corrections and Differences between the video and the book.
Gallery
Video Book Gallery
I Can Read with my Eyes Shut! - Read on Video