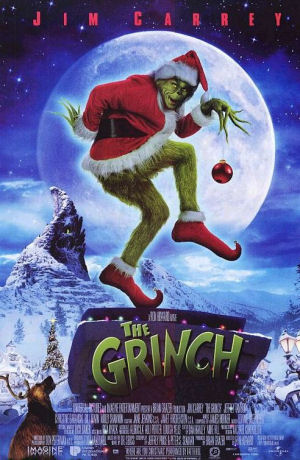 How the Grinch Stole Christmas is a film based on the classic Dr. Seuss book How the Grinch Stole Christmas! it was released in 2000. You better watch out because the Grinch is planning to steal Christmas.
Plot
In the microscopic city of Whoville, everyone celebrates Christmas with much happiness and joy, with the exception of the cynical and misanthropic Grinch (Jim Carrey), who hates Christmas and the Whos with great wrath and occasionally pulls dangerous and harmful practical jokes on them. As a result, no one likes or cares for him.
Cindy Lou Who, an 8-year-old girl, believes everyone is missing the point about Christmas by being more concerned about gifts and decorations. After becoming aware of the Grinch's existence and being saved from a dangerous machine by him, she suspects that he isn't as bad as he seems and starts to create interest in the Grinch and his history. She asks everyone what they know about him and soon discovers that he has a tragic past.
The Grinch actually arrived in Whoville from a mistake by a wrong wind when he was a baby and was adopted by two elderly sisters. Although he showed some sadistic tendencies as a child, he was rather timid and naive and not the cruel, selfish person he would become; he was bullied by his classmates (mainly by Augustus May Who, the current Mayor of Whoville) because of his green and hairy appearance. The only classmate to show The Grinch any compassion was Martha May Whovier, whom The Grinch had a crush on. One Christmas season, he made a gift for Martha but attempted to shave his face after remembering what May Who said about his looks, cutting himself in the process. When the school saw The Grinch's face covered with shaving tape the next morning, they laughed at him. He lost his temper, went on a rampage, and then ran away to live on Mt. Crumpit. He never returned home and became a legend of fear due to brief sightings.
Cindy Lou, touched by this story, decides to make the Grinch the main participant of the Whobilation, to the great displeasure of Augustus, who reluctantly agrees. But when she offers an  invitation to the Grinch, he turns down her offer. He gradually changes his mind, however, at a chance to see Martha May again and upset the Mayor. He arrives late to the proceedings and is at first disgusted by the celebrations, but eventually begins to genuinely enjoy himself. But just as the Grinch is almost won over, Augustus gives him an electric shaver as a present, reminding him of his childhood humiliation. The Mayor then proposes to Martha in marriage right in front of the Grinch, shocking and enraging him. In hopes that they will become too ashamed to celebrate the holiday, the Grinch openly criticizes the Whos for thinking that Christmas is about gifts that they will dispose of later. He then goes on a rampage again, destroying the Christmas tree.
The Grinch is pleased with his rampage, but much to his dismay, he soon realizes that his attack does not remove the spirit of Christmas from them and that they will celebrate the commemoration of the Christmas tomorrow. Angry with the idea of spending another Christmas alone in his cave, the Grinch deduces that the Whos only celebrate Christmas because of their extravagant gifts, and he decides to steal all their belongings while they sleep: Christmas Tree, Presents, Stockings, Food, Treats, Goldfish, Cat, and their mice. White fluffy cat yowls to slunk the sleigh. Creating a Santa suit and sleigh, the Grinch's burglary is successful, but he forces Max to pull all the things stolen when his flying sleigh runs out of fuel. The next day, the Whos discover the Grinch's scheme, and Augustus takes the opportunity to denounce Cindy Lou as the root of the whole catastrophe. However, her father, Lou Lou Who, reminds everyone that they still have the Christmas Spirit - the one thing that does not come from a store and that the principal meaning of Christmas is to spend it with family and friends, and not about giving or receiving gifts and putting up decorations. The people accept his speech and begin to sing.
The Grinch plots to destroy all the stolen gifts after he hears the Whos crying and say boo-hoo. However, he hears the joyful singing of the Whos. Frustrated at the failure of his plan, the Grinch realizes that Christmas means much more that mere material gifts, an insight that profoundly touches him and makes his heart grow three times its original size. However, the stolen gifts nearly fall off the cliff, and the Grinch desperately tries to save them. They prove too much for him, but when he realizes Cindy Lou has come to wish him a Merry Christmas, this provides the Grinch with enough strength to lift the gifts to safety and right over his head. After a long descent, the Grinch appears along with Cindy and the gifts, explains what has transpired and apologizes for his practical jokes. The Whos forgives the Grinch, while Martha turns down Augustus's proposal and decides to stay with the Grinch instead. The redeemed Grinch starts a new lift with the Whos and commemorates the Christmas feast with them in his cave.
Cast
Production
On September 26, 1999, it was announced that Ron Howard would direct and produce a 2000 American fantasy comedy Christmas film titled How the Grinch Stole Christmas or Dr. Seuss' How the Grinch Stole Christmas (promoted theatrically as The Grinch) with Brian Grazer and also with the budget of $123 million based on the 1957 story of the same name by Dr. Seuss which would be released in cinemas on November 17, 2000. Jeffrey Price and Peter S. Seaman would write the film. It was also announced that the film would star Jim Carrey (who plays the title character), Josh Ryan Evans, Taylor Momsen, Jeffrey Tambor, Ben Bookbinder, Christine Baranski, Landry Allbright, Bill Irwin, Molly Shannon, Frank Welker, Clint Howard, Reid Kirchenbauer, Mindy Sterling, Bryce Dallas Howard, Jim Meskimen, Jeremy Howard, Kelley and T. J. Thyne with narration by Anthony Hopkins. Universal Pictures acquired distribution rights to the film. James Horner would compose the music for the movie. Imagine Entertainment co-produced the film.
Reception
Critical reception
Rotten Tomatoes gave the film with a rating 53%, with the critical consensus reading, "Jim Carrey shines as the Grinch. Unfortunately, it's not enough to save this movie. You'd be better off watching the TV cartoon." On Metacritic, the film has a score of 46 out of 100, based on 29 critics, indicating "mixed or average reviews". Roger Ebert criticized the film, referring it as "a dank, eerie, weird movie about a sour creature who lives on top of a mountain of garbage, scares children, is mean to his dog, and steals everyone's Christmas presents," and saying, "There should be...a jollier production design and a brighter look overall... It's just not much fun."
Box office
Dr. Seuss' How the Grinch Stole Christmas opened at number-one with a weekend gross of $55,082,230, for an average of $17,615 from 3,127 theaters and staying at #1 for a total of 4 weeks. It closed on April 30, 2001, after five months, with a final gross of $260,044,825 in the United States and Canada and an additional gross of $85,096,578 in other territories, for a total worldwide gross of $345,141,403.
Awards
The film garnered three Academy Award nominations, including Best Costume Design (Rita Ryack) and Best Art Direction (Michael Corenblith and Merideth Boswell), and nominees Rick Baker and Gail Rowell-Ryan won the Academy Award for Best Makeup. At the Golden Globes, Carrey was nominated for the Golden Globe Award for Best Actor – Motion Picture Musical or Comedy, losing the award to George Clooney for O Brother, Where Art Thou?. The film won a Saturn Award for Best Music. However, it was also nominated for two 2000 Golden Raspberry Awards for Worst Remake or Sequel and Worst Screenplay, but lost to Book of Shadows: Blair Witch 2 and Battlefield Earth respectively.
Home media
The film was released on VHS and DVD on November 20, 2001. A Blu-ray/DVD combo pack was released on October 13, 2009.
Remake
Universal Pictures and Illumination Entertainment have announced they are working on a computer-animated remake of the film. Peter Candeland is set to direct, following the remake to The Cat in the Hat, with Illumination CEO Chris Meledandri producing and Audrey Geisel, widow of Dr. Seuss author Theodor Geisel, will executive produce. It will be released on November 9, 2018.
Gallery
See also
Ad blocker interference detected!
Wikia is a free-to-use site that makes money from advertising. We have a modified experience for viewers using ad blockers

Wikia is not accessible if you've made further modifications. Remove the custom ad blocker rule(s) and the page will load as expected.