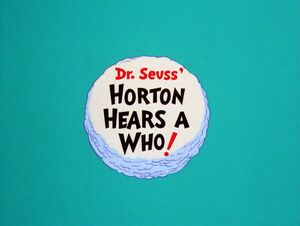 Horton Hears a Who is a cartoon about the Dr. Seuss book, Horton Hears a Who!. It is produced by MGM Studios.
Synopsis
Horton is having a normal day until he hears a voice, one of the Whos. Jane Kangaroo sees this and tells everyone that Horton is crazy. In result, an eagle takes the flower where the Who's live and drops it into a flower field. Horton picks over 3 million flowers carefully picking up each one until he finds the Who's. No one still believes Horton and they are going to have the flower roasted and Horton locked in a cage.
He tells the Who's to make as much noise as they possibly can, Jane Kangaroo hears this along with everyone else. Later, Horton becomes a local hero for saving this tiny race.
Video
Gallery
Ad blocker interference detected!
Wikia is a free-to-use site that makes money from advertising. We have a modified experience for viewers using ad blockers

Wikia is not accessible if you've made further modifications. Remove the custom ad blocker rule(s) and the page will load as expected.