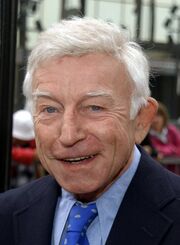 Henry Gibson (September 21, 1935 – September 14, 2009)[1] was an American actor and songwriter, best known as a cast member of Rowan & Martin's Laugh-In and for his recurring role as Judge Clark Brown on Boston Legal. He voiced The Cat in the Hat on Daisy-Head Mayzie and provided the singing voice for Max on Halloween is Grinch Night for the song How Many Times
Early life
Gibson was born as James Bateman in Germantown, Philadelphia, Pennsylvania, the son of Dorothy (née Cassidy) and Edmund Albert Bateman. He attended Saint Joseph's Preparatory School, where he was President of the Drama Club. Graduating from The Catholic University of America in Washington, D.C., he served in the U.S. Air Force as an intelligence officer. After his discharge, he developed an act in which he portrayed a Southern accented poet. His stage name was a play on dramatist Henrik Ibsen.
Personal life
On April 6, 1966, he married Lois Joan Geiger, who was five years his senior. The couple had three sons: Jonathan David Gibson, an executive at Universal Pictures; Charles Alexander Gibson, a director and visual effects supervisor; and James Gibson, a screenwriter. She died on May 6, 2007, aged 77.
Death
On September 14, 2009, Gibson died of cancer at his home in Malibu, California, a week before his 74th birthday.[2] He was cremated at Westwood Village Memorial Park Cemetery.