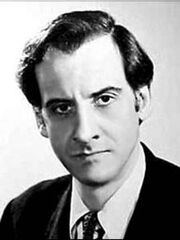 Hans Georg Conried, Jr. (April 15, 1917 – January 5, 1982), was an American comedian, character actor and voice actor best known for providing the voice of Captain Hook in Walt Disney's version of Peter Pan and for his earlier work as Uncle Tonoose on Danny Thomas's sitcom Make Room for Daddy. He portrayed The Grinch and was the narator of Dr. Seuss' Halloween is Grinch Night. He also portrayed both the North-Going Zax and the South-Going Zax on Dr. Seuss on the Loose. He also portrayed Horton on the Horton Hears a Who! (TV Special).
Early years
He was born in 1917 in Baltimore, Maryland, to Edith Beryl (Gildersleeve) and Hans Georg Conried, Sr. His birth certificate states he was born on April 14, 1917, but he was in fact born at 9:25 am on April 15. He was given the name Hans Georg Conried Jr. There is no truth to the oft-repeated story that his real name was Frank Foster. His Connecticut-born mother was a descendant of Pilgrims, and his father was a Jewish immigrant from Vienna, Austria. He was raised in Baltimore and in New York City. He studied acting at Columbia University and went on to play many major classical roles onstage. Conried worked in radio before breaking into movies in 1939, and was also a member of Orson Welles' Mercury Theatre Company. He enlisted in the U.S. Army in September 1944 during World War II.
Radio career and other voice work
Conried appeared regularly on many radio shows during the 1940s and 1950s. He was a member of the regular cast of Orson Welles's Ceiling Unlimited, for which he also wrote the December 14, 1942, episode, "War Workers". On CBS's The George Burns and Gracie Allen Show. he had the notable role of a psychiatrist whom George regularly consulted for help in dealing with the dizzy Gracie. Conried's most important single year was 1953, in which he made his Broadway debut in Can-Can and received screen credit in six films (among them The Twonky and The 5,000 Fingers of Dr. T). His other Broadway productions include 70, Girls, 70 and Irene. Conried's inimitable growl and impeccable diction were perfectly suited to the roles he played, whether portraying the dim Professor Kopokin in the radio show My Friend Irma or portraying comic villains and other mock-sinister or cranky types, such as Captain Hook (and Mr. Darling) in Walt Disney's Peter Pan and The Grinch/Narrator from Dr. Seuss' Halloween is Grinch Night. According to the DVD commentary of Futurama, he was also the inspiration for the voice created for that series' "Robot Devil". Conried also was a cast member of other Dr. Seuss specials, and The Rocky and Bullwinkle Show, voicing the character of Snidely Whiplash in the Dudley Do-Right shorts, and also hosted Fractured Flickers, another creation of Jay Ward and Bill Scott, as well as Wally Walrus on The Woody Woodpecker Show, Uncle Waldo P. Wigglesworth on Hoppity Hooper, and Dr. Dred on Drak Pack. He was well known as the Williams family patriarch, Uncle Tonoose, on the sitcom Make Room for Daddy, a role he played for thirteen years. He was also a regular performer on the Jack Paar's Tonight Show on NBC from 1959 to 1962.
Death
Conried was active up until his sudden death from cardiovascular disease on January 5, 1982. He was married to Margaret Grant from January 29, 1942 until his death three weeks short of their 40th wedding anniversary. The couple had four children. His remains were donated to medical science.