Halloween is Grinch Night
Talk

0
603pages on
this wiki
Halloween Is Grinch Night is a TV special that is a Halloween special.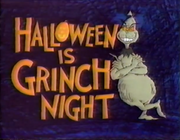 Plot
One fine night in Whoville the sun is going down and then a Sour sweet wind blows and causes all kinds of problems. The Gree-Grumps start growling, Punkers Pond starts runcleing and gruncleing and the Hacken Cracks start houeling. The Grinch gets anoyed by this so he comes down to have a party with himself. He calls his dog Max to fetch the Parafernailea Wagon filled]] with Evil Monsters of all shapes and sizes.
Meanwhile in the house of Jasiah Who and Mariah Who they check to make sure that the wind is blowing. There grandson Euchariah Who has to use the Euphemism so he goes to do so. Jasiah calls Sargint Samuel McFerson who is in person. His grandparents  go and try and look for him but can't find Euchariah because he was taken away by the wind. Euchariah encounters The Grinch himself and asks if he is really The Grinch to which The Grinch is afended. Euchariah finds Max and wants to take him home if he ever finds home again. He has another encounter with The Grinch and gets his $2 treatment. They have yet another encounter and Euchariah goes into the wagon to stall the Grinch for time. After avoiding all of the Evil Monsters The Grinch goes back home. The Grinch clames that he will be back again in the future. Back in Whoville everyone is happy that Euchariah is back and defeated The Grinch.
Trivia
This is the only Grinch special that The Grinch is not good at the end.
The Whos of this special look more human than their past appearances.
This special is also called Grinch Night or It's Grinch Night.
Page 30-31 of the book "Oh the Thinks you can Think!" was used at the beginning and 5 minutes until the end of this video you will see Euchariah Who standing on the side of the stair way of page 31. The man that was holding a candle up to the light does not appear in this scenery as he did in the book..
Page 24-25 of the book "Oh the Thinks you can Think!" was used in this scene to where a boy met a Jibboo in a abandoned town. This time, Euchariah was the boy who saw the Jibboo who looks like he is evil this time unlike the book.

Max decides to leave the Grinch and becomes Euchariah Who's pet at the end.

The Hakken-Kraks you see in the video are from the book Oh, the Places You'll Go!
Gallery