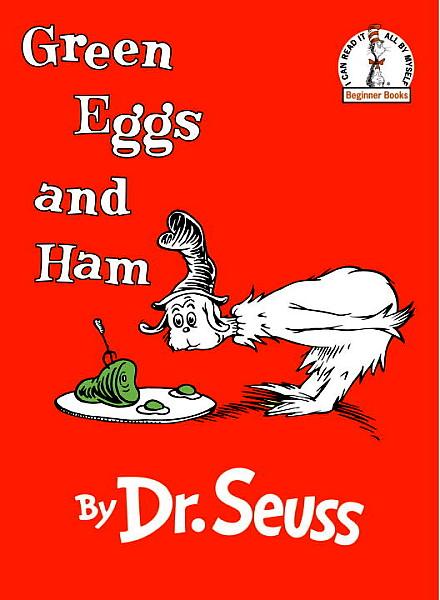 Green Eggs and Ham
is a book by
Dr. Seuss
. It was first published in 1960 and as of 2001 was the fourth-best-selling English language children's book of all time.
[1]
.
Sam I Am
wants
Joey
to taste some green eggs and ham. He refuses many, many times, until finally, trapped with no other alternative, he tries a bite, and realizes he does, in fact, like the aforementioned dish.
Read more...
Trivia
This book features a self centered fellow and a persistent, annoying counterpart to him, "a theme which would be continued in Fox in Socks and It might be Knox!".
A rumor says that a Dr. Seuss's Publisher, Bennett Cerf, wagered that Seuss could not make a book in under fifty words. The result became this book.
This book was made into an animated TV special in 1973 in the TV movie Dr. Seuss on the Loose with Paul Winchell as both Sam-I-Am and Joey.
This book was featured in a movie titled I am Sam (2001), directed by Jessie Nelson, and starred by: Sean Penn, Michelle Pfieffer, and Dakota Fanning. The character Sam loves reading this book.
In two Cartoon Network shows, Johnny Bravo and Dexter's Laboratory, they both have Green Eggs and Ham references.
The SpongeBob SquarePants episode "Just One Bite" parodies the plot of this book.
In Horton Hears a Who, The McDodd family is shown eating green eggs and ham for breakfast.
Oceanhouse Media published this book to be used as an app on Iphones, Ipod touch, Ipad and android apps.
The episode of VeggieTales feature stories that parody Dr. Seuss: "The Story of Flibber-a-loo" from "Are You My Neighbor?" and the title story of the episode, "A Snoodle's Tale". At the end of the latter, Larry says that something about the story makes him want to eat green ham...and eggs.
the fox might be fox in socks
First Appearances
Goofs, Errors, and Corrections
Media
You can watch Green Eggs and Ham here: https://www.youtube.com/watch?v=1kpP-SmCu2A Read book in pdf.
Gallery
Video Book Gallery