General Genghis Kahn Schmitz is a character in I Had Trouble in Getting to Solla Sollew. He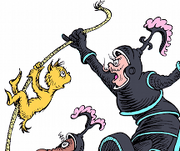 takes the Solla Sollew Traveler to be a "Private, First Class" in his army and defeat the "Perilous Poozer of Pomepelmoose Pass". He also appears in Seussical the Musical, his role is changed completely. There, he is more similar to the Yooks in The Butter Battle Book, as is having a war for those who eat bread butter side up.
Ad blocker interference detected!
Wikia is a free-to-use site that makes money from advertising. We have a modified experience for viewers using ad blockers

Wikia is not accessible if you've made further modifications. Remove the custom ad blocker rule(s) and the page will load as expected.