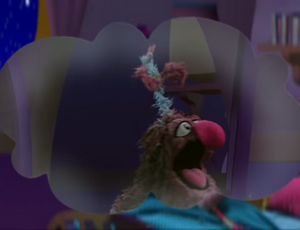 Fithamatose
is a purple monster with an infra red nose who entered
Sarah's
 bedroom through the closet. After the monster sneezed, the nose came off and his nose was jumping around the room making a mess. He then attempts to catch it to put it back on his face, but the monster disappeared before he caught it.
The Fithamatose is a variant of the Mr. Curly Twirly puppet who first appeared on The Muppet Christmas Carol and appeared on the other 2 muppet productions including Muppet Treasure Island as a Benbow Inn Raider pirate and on Moptatop's Shop.
Ad blocker interference detected!
Wikia is a free-to-use site that makes money from advertising. We have a modified experience for viewers using ad blockers

Wikia is not accessible if you've made further modifications. Remove the custom ad blocker rule(s) and the page will load as expected.