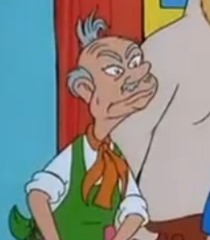 Finch is a character from the Dr. Seuss Book
Daisy-Head Mayzie
and
Daisy-Head Mayzie (TV Special)
.
He is a florist that grows and cuts plants like bushes, flowers, roses and cactus etc was called to help. he suggested cutting the daisy off Mayzie's head but Mayzie is frighten about it cause if he were to cut it, she and the daisy would both die.
Gallery
Ad blocker interference detected!
Wikia is a free-to-use site that makes money from advertising. We have a modified experience for viewers using ad blockers

Wikia is not accessible if you've made further modifications. Remove the custom ad blocker rule(s) and the page will load as expected.