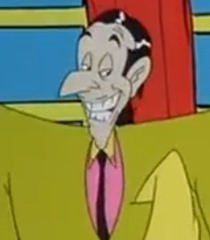 Finagle is a character from the Dr. Seuss Book Daisy-Head Mayzie and the movie Daisy-Head Mayzie (TV Special).
Summary
Finagle is a Manager who assumes Mayzie McGrew could be famous for having a daisy on her head.
So he tells her how famous she could be and Mayzie accepts the offer but her friends and family didn't want her to leave them however Mayzie refuses to listens and continues on to be a star however as time past she and no matter how famous and rich she was, she never felt happy without her family she she dodges Finagle running away.
He is voiced by Tim Curry.
Ad blocker interference detected!
Wikia is a free-to-use site that makes money from advertising. We have a modified experience for viewers using ad blockers

Wikia is not accessible if you've made further modifications. Remove the custom ad blocker rule(s) and the page will load as expected.