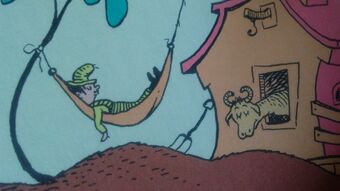 Farmer Falkenberg is a farmer from the Dr. Seuss Book
Did I Ever Tell You How Lucky You Are?
He is seen taking a nap outside on his hammock along with his pet cow after working hard on growing a produce of radishes, however under the dirt, the seventeenth radish was unlucky to live on as a worm under ground takes a bite out of it.
Ad blocker interference detected!
Wikia is a free-to-use site that makes money from advertising. We have a modified experience for viewers using ad blockers

Wikia is not accessible if you've made further modifications. Remove the custom ad blocker rule(s) and the page will load as expected.