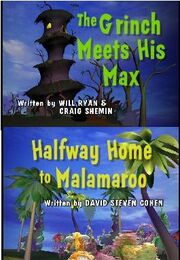 The Cat in the Hat has left Little Cats A, B, and C alone with a nifty storytelling machine.
In "The Grinch Meets His Max," the cats hear the story of how The Grinch and his dog Max came to be friends after they insert a backscratcher.
In "Halfway Home to Malamaroo," the cats are told the story of Alvin (an alien from Malamaroo) after the Cats insert a half-eaten cake. Alvin is as sweet as can be, but he drives Jane Kangaroo, Junior Kangaroo, and Thidwick the Big-Hearted Moose crazy when he never finishes what he starts -- including his trip home!
Credits
Air Date August 17, 1997
Written by Craig Shemin, Will Ryan and David Cohen
Director David Gumpel
Songs
Video releases
Storybook adaptations