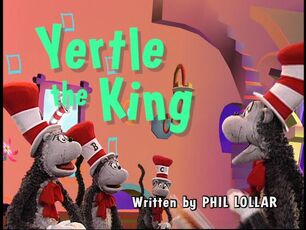 Yertle the King is a musical fantasy thriller episode. Yertle's Aunt Myrtle (a bona-fide queen!) has left Yertle temporarily in charge of her kingdom while she is away. Big mistake.
Characters
Yertle (the main protagonist)
Aunt Myrtle (the main antagonist)
The rest of the episode's characters play supporting roles
Songs
Video releases
Credits
Air Date July 27, 1997
Written by Phil Lollar
Director John Leo
Storybook adaptations
Section heading
Write the second section of your page here.