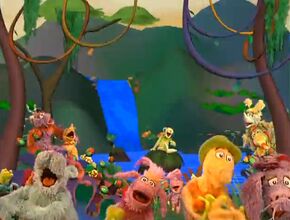 When Jane Kangaroo insists that the citizens of Lake Winna-Bango cease sliding around on Fruzzle-Floom Fruit peels and instead discard them, the mighty waterfall mysteriously stops falling. It's up to our hero, Thidwick the Big-Hearted Moose, to piece together the ecological chain and restore the water source.
In the UK version, the episode is named "Thidwick the Big Hearted Moose 2".
Credits
Air Date January 5, 1997

Written by Alan Neuwirth and Gary Cooper

Director Scott Preston
Songs
Ad blocker interference detected!
Wikia is a free-to-use site that makes money from advertising. We have a modified experience for viewers using ad blockers

Wikia is not accessible if you've made further modifications. Remove the custom ad blocker rule(s) and the page will load as expected.