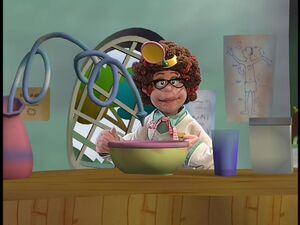 Dr. Gazeat is a doctor for the Kingdom of Didd. Tell anyone if you've got a problem see her. She helps anyone who needs help or who just wants to help out. She helps out a 3-Horned Pasha, Norbid the Page and friend Zak. She also helps out a Fierce Flagger Dragon with his problem with his smoke coming out of his ears.
Dr. Gazeat is featured in the Wubbulous World of Dr. Seuss episode "A Bird's Guide to Health".
Ad blocker interference detected!
Wikia is a free-to-use site that makes money from advertising. We have a modified experience for viewers using ad blockers

Wikia is not accessible if you've made further modifications. Remove the custom ad blocker rule(s) and the page will load as expected.