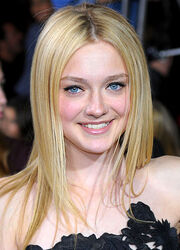 Hannah Dakota Fanning[1] (born February 23, 1994), known as Dakota Fanning, is an American actress who rose to prominence after her breakthrough performance at age seven in the 2001 film I Am Sam. Her performance earned her a nomination for a Screen Actors Guild Award at age eight in 2002, making her the youngest nominee in history.[2] As a child actress, she went on to appear in high-profile films such as Man on Fire (2004), War of the Worlds (2005) and Charlotte's Web (2006). Fanning then began the transition to more adult roles with Hounddog (2007) and The Secret Life of Bees (2008). Her recent film roles have included the titular character in the fantasy/horror animated children's movie Coraline (2009), Cherie Currie in the drama The Runaways (2010) and Jane Volturi in The Twilight Saga (2009–2012).
She played Sally in The Cat in the Hat (film).
Early life
Fanning was born in Conyers, Georgia. Her mother, Heather Joy (née Arrington), played tennis professionally, and her father, Steven J. Fanning, played minor league baseball, and works as an electronics salesman in Los Angeles. Her maternal grandfather is former American football player Rick Arrington, and her aunt is former ESPN reporter Jill Arrington. Dakota is the elder sister of Elle Fanning, also an actress. Fanning has Irish, German, English, and French ancestry. She and her family are Southern Baptist.
Personal life
In June 2011, Fanning graduated from Campbell Hall School in North Hollywood, California, where she participated on the varsity spirit cheerleading squad and was voted homecoming queen. She is currently studying at New York University. In January 2012, it was reported that Fanning signed to be represented by WME (William Morris-Endeavor), thus ending a 10-year-plus relationship with Osbrink Talent Agency.