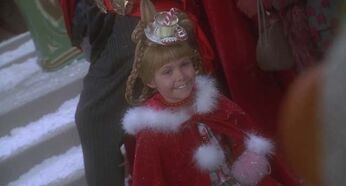 Cindy Lou Who is a sweet, lovely and beautiful young girl from Dr. Seuss's storybook How the Grinch Stole Christmas! and the 2000 film, appearing as the tritagonist.
She is a two-year-old Who girl who lives in Whoville and plays a pivotal role in the story.
In 1966, she was played and voiced by June Foray and in 2000, she was played by Taylor Momsen in the live-action movie of the same name.
Broadway Musical
In the musical, Cindy Lou can be from six to twelve years old. She has four siblings: Boo Who, Danny Who, Betty Lou Who, and Annie Who. She first appears in It's The Thought, Who Likes Christmas, I Hate Christmas Eve, and Whatchamo. She is clearly different from the other children dressed in red and white, while she wears a pink gown. On Christmas Eve, she wakes up to meet the Grinch when she sings Santa For A Day with the Grinch. She is played by two little girls every Winter at the Olde Globe in San Diego. She was first portrayed by Vanessa Hudgens.
2000 Film
In the 2000 film version, Cindy Lou is at best eight to ten years old and knows of the Grinch early on in the story thanks to her doing some investigative reporting (her father, never shown in the book or the TV special, is a mailman who occasionally delivers the papers as well).
Unlike the rest of the Whos, Cindy believes that there is some good in The Grinch. Augustus May Who, the Mayor of Whoville, angrily accuses her of robbing everyone when the Whos awake to their homes being ransacked.
However, her name is cleared shortly and she later helps the Grinch return every item back to the Whos after sneaking aboard his sleigh. In the last scene, she welcomes the Grinch and Max to her family.
Gallery
Ad blocker interference detected!
Wikia is a free-to-use site that makes money from advertising. We have a modified experience for viewers using ad blockers

Wikia is not accessible if you've made further modifications. Remove the custom ad blocker rule(s) and the page will load as expected.