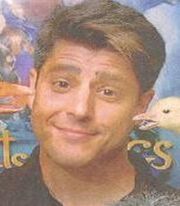 Bruce Lanoil is an actor,voice artist, puppeteer for The Jim Henson Company,and a Muppeteer for the Walt Disney Company, who frequently works with puppeteer David Alan Barclay and hails from Brooklyn. He voiced The Cat in the Hat and the Fox from the book Fox in Socks in the first season of The Wubbulous World of Dr. Seuss. For Disney he is also the 4th voice double for Timon from The Lion King. So far he has voiced Timon in Kingdom Hearts II and Disney's "Wild About Safety" shorts. He has also performed a voice sample for an additional character in the 2011 Spyro game, Skylanders: Spyro's Adventure. He worked as a puppeteer on movies such as"The Muppets,"Where The Wild Things Are" Dr. Dolittle, Jack Frost, The Flintstones in Viva Rock Vegas, and Cats & Dogs.[2] Outside of the Henson company, he was an on-set animation reference puppeteer and voice actor for the movies Monkeybone and Looney Tunes: Back in Action.
Section heading
Write the first section of your page here.
Section heading
Write the second section of your page here.
Ad blocker interference detected!
Wikia is a free-to-use site that makes money from advertising. We have a modified experience for viewers using ad blockers

Wikia is not accessible if you've made further modifications. Remove the custom ad blocker rule(s) and the page will load as expected.