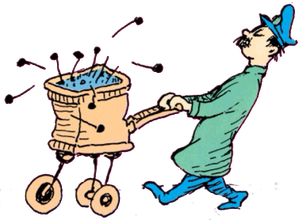 Blinn
is a pinner who pins shin bones on the skeletons at a museum.
He is from the book Oh Say Can You Say? You will see him coming with his basket of pins to put Dinn the dinosuar's shin bones back in. He is the father of two twins who play musical violins to help lull him to sleep after a hard day's work.
Gallery
Ad blocker interference detected!
Wikia is a free-to-use site that makes money from advertising. We have a modified experience for viewers using ad blockers

Wikia is not accessible if you've made further modifications. Remove the custom ad blocker rule(s) and the page will load as expected.