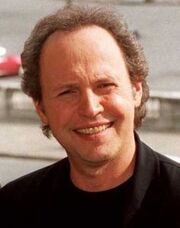 William Edward "Billy" Crystal[1] (born March 14, 1948)[1][2] is an American actor, writer, producer, comedian, and film director. He gained prominence in the 1970s for playing Jodie Dallas on the ABC sitcom Soap and became a Hollywood film star during the late 1980s and 1990s, appearing in the critical and box office successes When Harry Met Sally... and City Slickers. He has hosted the Academy Awards nine times through the 84th Academy Awards in 2012.
He is one of the voice actors from "Dr. Seuss Video Classics" series. You will here him In the book Horton Hatches the Egg as the Narrator, the voice of Horton the Elephant, Mayzie, The 3 Poachers, One of the animals laughing at Horton, Crew member of a ship who said "All Ashore!", and A Few Men (who came in the Tent discovering a new creature called the "Elephant Bird").
On the movie "In Search of Dr. Seuss" he is the voice of a talking radio named "The voice of America."
You may also know him as the voice of Michael "Mike" Wazowski from Disney's Monster's Inc and Monster's University and Party Central.
Section heading
Write the first section of your page here.
Section heading
Write the second section of your page here.