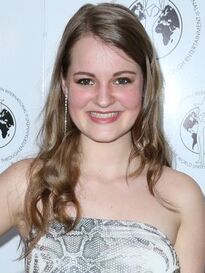 Alexa Torrington, a young Canadian actress, who currently voices the lead character of Sally in the Portfolio Entertainment animated television series The Cat in the Hat Knows a Lot About That! starring Martin Short.
After building a solid resume in commercials and short films, Alexa branched out into voice work, landing several guest spots on the television series Super Why! before transitioning naturally into the lead role of Sally. With many diverse interests from dance to sports, Alexa looks forward to a long and established career in the entertainment industry. Alexa Torrington is represented by Vanderwerff Talent in Toronto.
Ad blocker interference detected!
Wikia is a free-to-use site that makes money from advertising. We have a modified experience for viewers using ad blockers

Wikia is not accessible if you've made further modifications. Remove the custom ad blocker rule(s) and the page will load as expected.