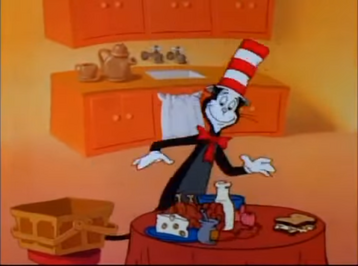 A song from
The Grinch Grinches the Cat in the Hat
when
The Cat in the Hat
(in a good mood) sings a song on the happy day he seems to be having and plans a happy picnic for himself outside at a park.
Song
Oh, the bees are busy buzzing in the beezle berry vine,
While the beezle berry sweetnin in the good ole sunny shine
It's gonna be a sunny buzzy beezle berry day, a day when cats... put on fresh hats...
When cats put on their picnic hats and go outside to play!
Oh the leap frogs are a leapin and there're leapin mighty fine,
And there're beepin and a leapin in the good ole sunny shine
It's gonna be a beepin leapin moo-moo of a day. A buzzy berry...beezley berry lulu of a day!
Ad blocker interference detected!
Wikia is a free-to-use site that makes money from advertising. We have a modified experience for viewers using ad blockers

Wikia is not accessible if you've made further modifications. Remove the custom ad blocker rule(s) and the page will load as expected.